One of the most influential international economists on the World Economy, the Emerging Markets and Africa.
Dambisa Moyo is an international economist who writes on the macro economy and global affairs. She is the author of three New York Times Bestsellers. She has travelled to more than 50 countries over the last decade, during which time she has developed a unique knowledge base on the political, economic, and financial workings of emerging economies -- in particular the BRICs and the frontier economies in Asia, South America, Africa and the Middle East. Her work examines the interplay between rapidly developing countries, international business, and the global economy, while highlighting the key opportunities for investment. She won the 2013 Hayek Lifetime Achievement Award, was named one of Time magazine's "100 Most Influential People in the World", also one of the World Economic Forum's "Young Global Leaders" and one of The Daily Beast's "150 Extraordinary Women Who Shake The World."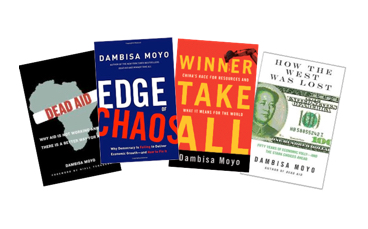 She is the author of Dead Aid: Why Aid Is Not Working And How There Is A Better Way For Africa, and of How The West Was Lost: Fifty Years Of Economic Folly And The Stark Choices Ahead and of Winner Take All: China's Race for Resources and What It Means For The World. She is a regular contributor of op-eds and articles to major international newspapers including the Financial Times and the Wall Street Journal and is a Contributing Editor, CNBC.
Dambisa delivers keynote speeches, or is an expert panellist at major economic, financial and business summits or conferences around the world. She also presents to client forums and provides briefings to boards and global / regional management groups of international companies.
Sample topics of presentation are:
Schism: The Coming Economic & Political Paradigm
The Coming Global Commodity Crisis
A Call Against Complacency
Africa's Time is Now
Dead Aid: How there is a Better Way for Africa
Dr Moyo was formerly a specialist in debt capital markets and global macroeconomics, Goldman Sachs. Before that, she was a Consultant, World Bank. She gained her PhD in Economics from Oxford University and a Master of Public Administration from Harvard University. She has a B.S. in Chemistry, & MBA in Finance from American University. She was born and raised in Zambia.
"Dambisa Moyo offers a smart primer for investors looking to make sense of the opportunities and risks in the commodity space today. You must read this book if you want to understand the reality of what's going on in the world today. I am afraid the West is going to wake up too late to prepare for the future."
Jim Rogers, Author of bestselling book "Hot Commodities."